Please see the latest job postings for Okaw Valley. #YNotOV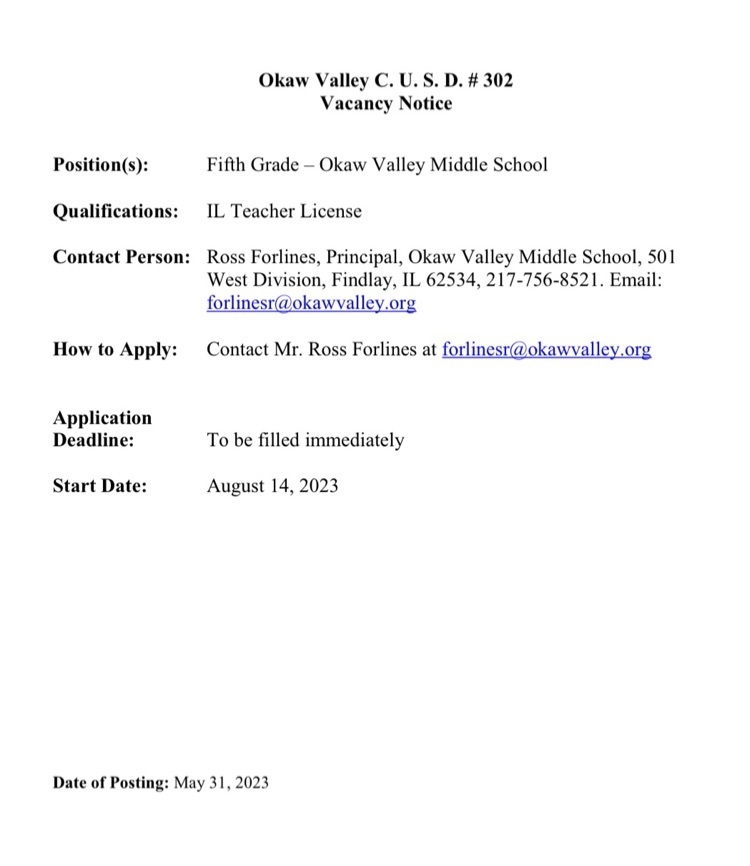 Thank you to the brave men and women who have made the ultimate sacrifice for our freedom. Happy Memorial Day.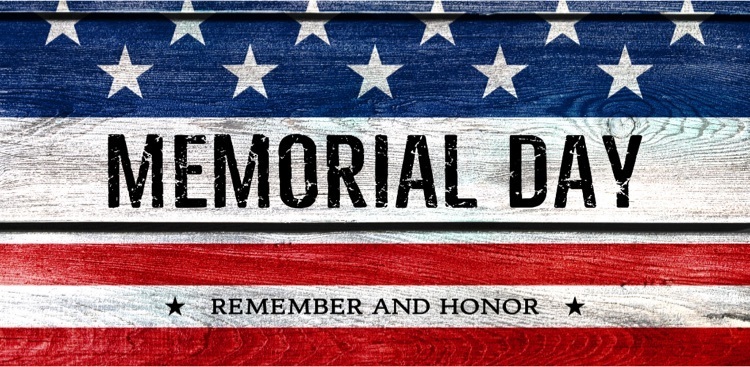 Congratulations to our OV all-conference selections for baseball and softball this Spring. Softball - Lana Ashley and Avery Bruns 2nd Team Baseball: Gibson Dickens - 1st Team pitcher Braden Montgomery - Unanimous 1st Team Aiden Williams - 1st Team Ryan Forlines - 2nd Team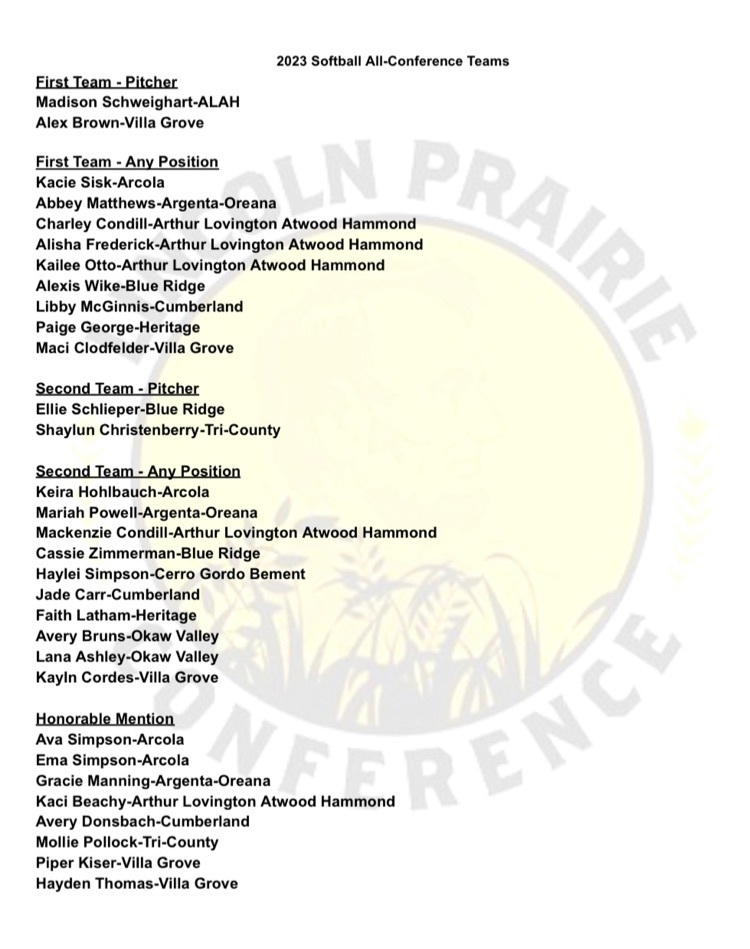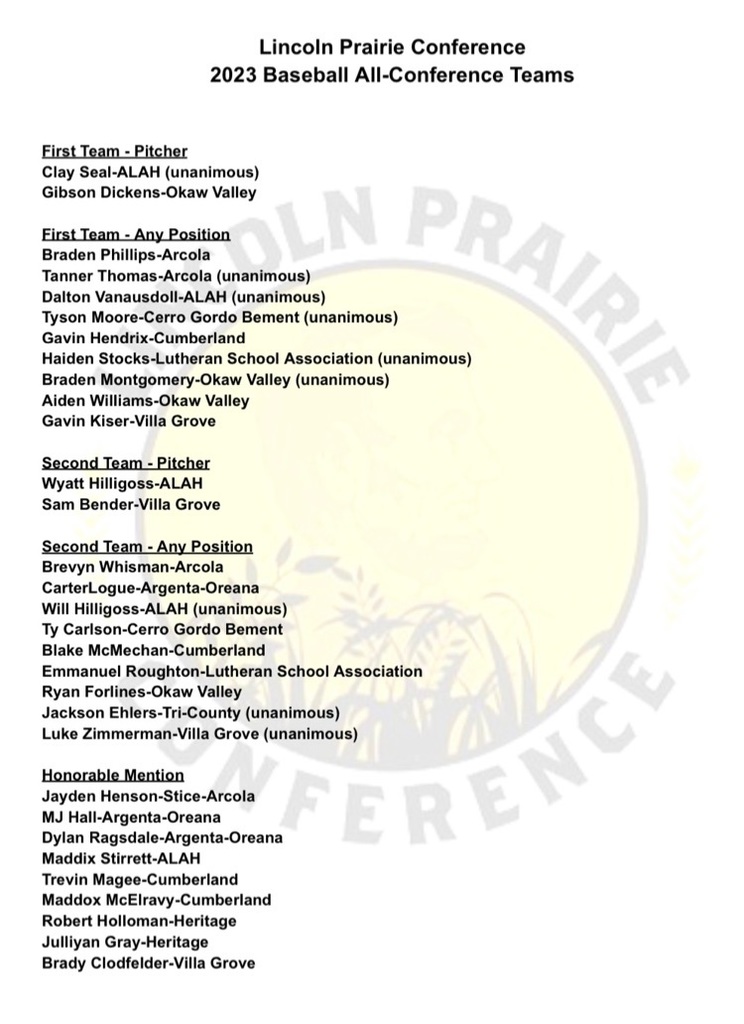 HS volleyball summer open gyms start tonight from 5-7 at the high school. There will be a brief parent meeting immediately following at 7 in the gym. #YNotOV

Congratulations to sophomore Aly Douglass for finishing 9th in the 800 at the IHSA State Track Meet today with a time of 2:21.65! #YNotOV

Sophomore Aly Douglass advances to the finals in the 800m run on Saturday at EIU in the IHSA state track meet by finishing 10th in the prelims with a time of 2:21.98! Way to Go AD! #YNotOV

Good luck to sophomore Aly Douglass at the IHSA state track meet today at EIU! Aly will be competing in the 400 and 800 in hopes of qualifying for Saturday's finals! #YNotOV

Good luck to the HS boys track team at tonight's IHSA Sectional Meet at Tuscola. #YNotOV

Due to rain in Casey, tonight's softball game has been pushed back 1 hour to start at 7:00.

Congratulations to the OVES May Choose to Be Nice coloring contest winners. #YNotOV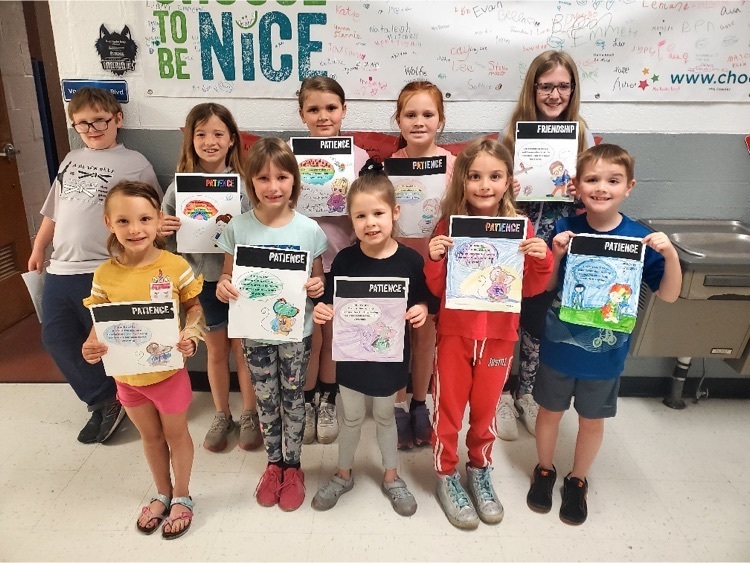 One last home game the HS boys baseball today at 4:30 as they host one of the top teams in class 1A, South Central. #YNotOV

OVMS had three more state medalists today in addition to our 4 x 100 state champs. - Kwame Calhoun finished 5th in the 8th grade shot put - Erin Harris finished 3rd in the 8th grade High Jump - Gabby Totten finished 2nd in the 8th grade 200. Great weekend for the kids!

8th grade girls Track brings home their 2nd state runner-up trophy in as many years! What a great weekend for the kids and our OV track future. There will be a fire truck escort coming through both town starting in Bethany around 7:20 before heading to Findlay. #YNotOV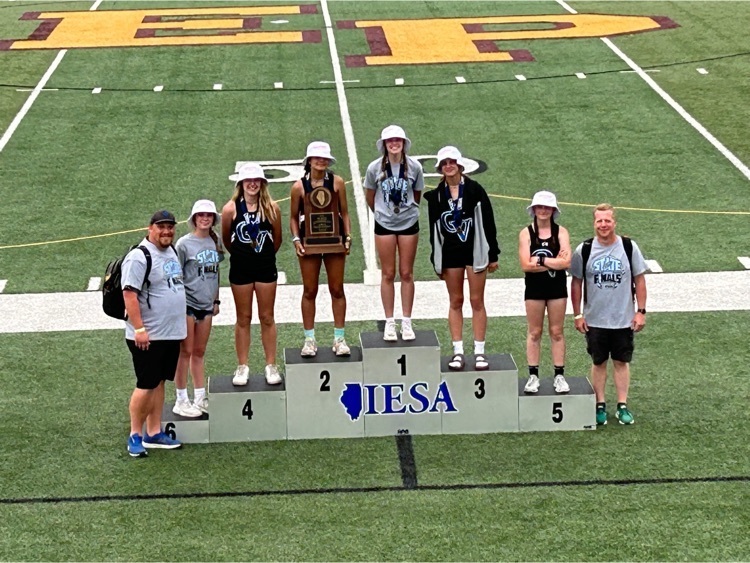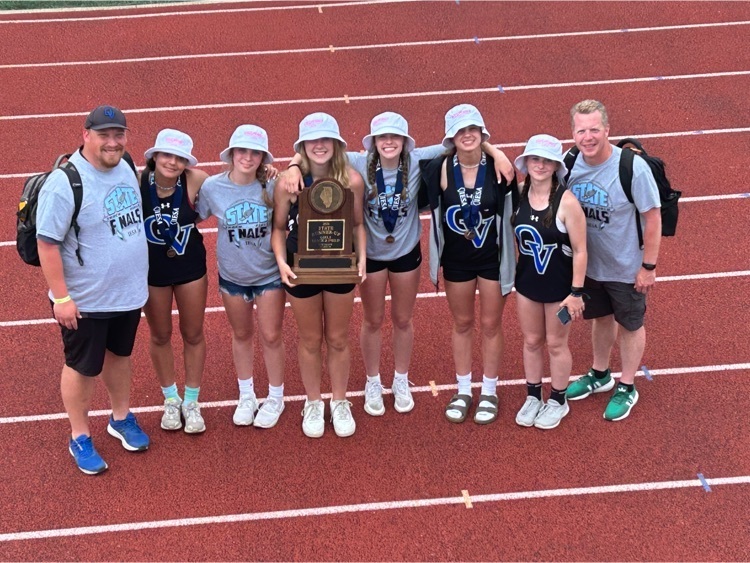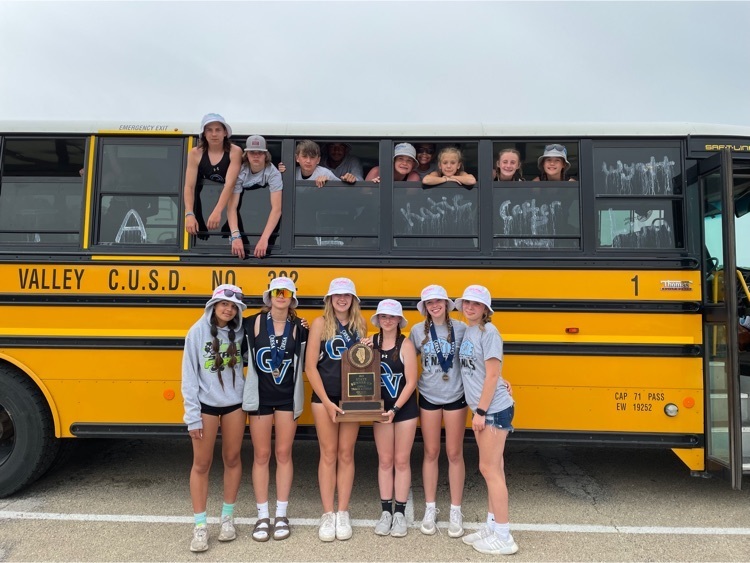 Congratulations to the Class of 2023. We will livestream today's graduation on our Facebook page starting at 2:00 PM for those who can't make it. #YNotOV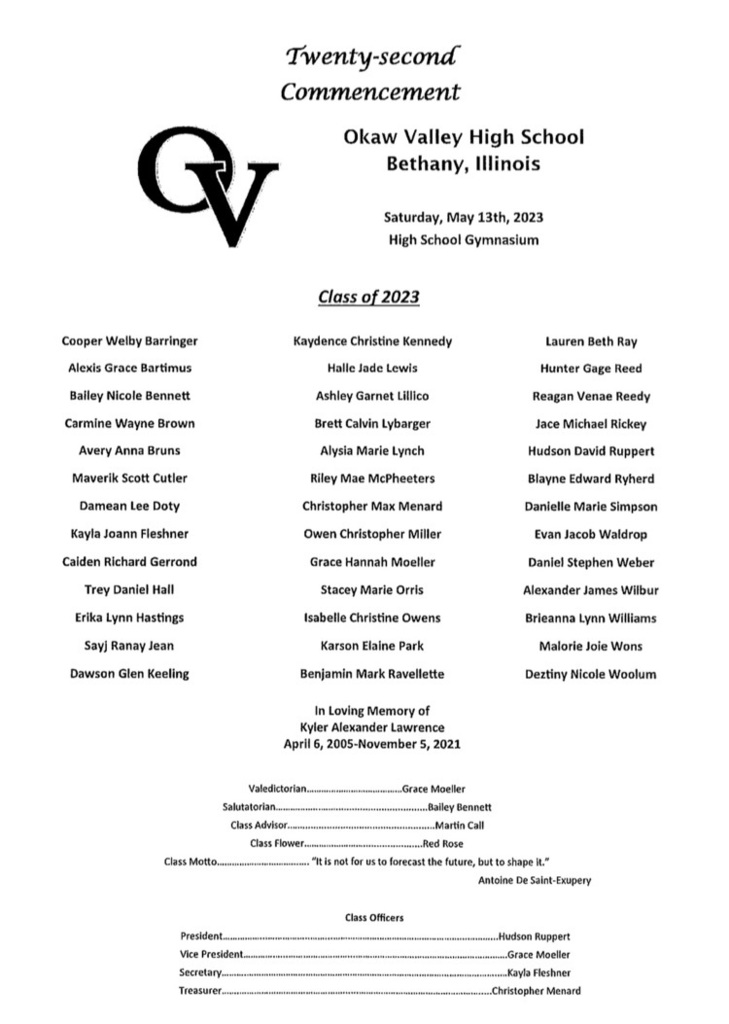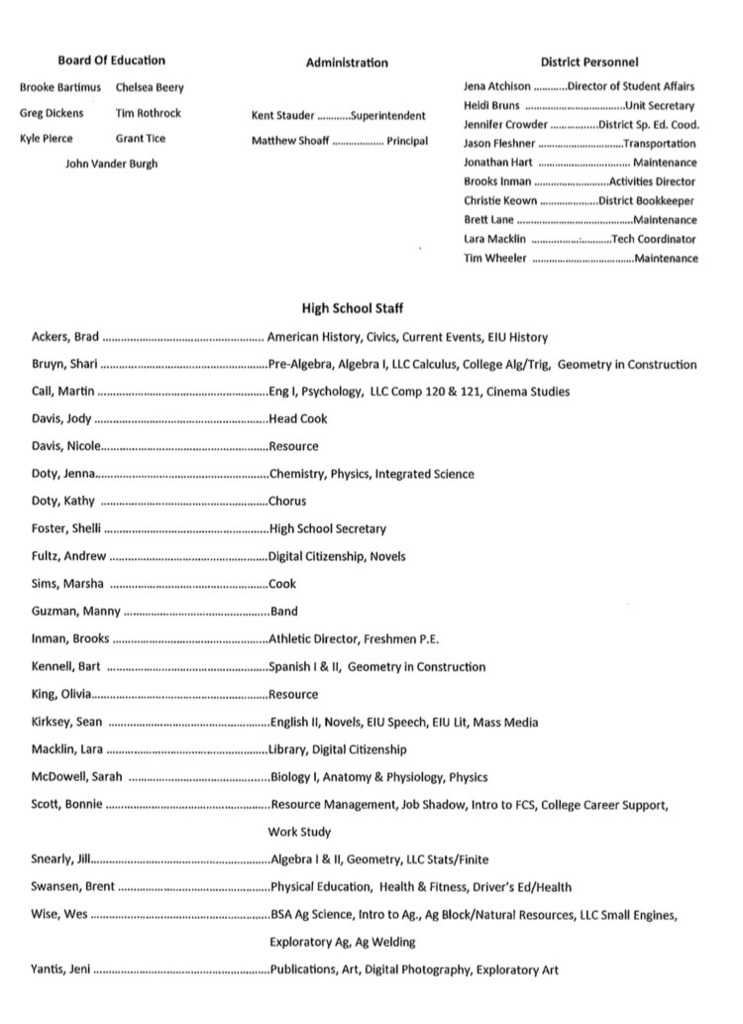 Reminder: There will be a graduate parade through Bethany and Findlay starting at approximately 3:30 from Crowder Park following the graduation ceremony today. Stand outside and wave our graduates on to wish them luck. #YNotOV

Today is graduation day for the Okaw Valley Class of 2023 starting at 2:00 PM. Congratulations to all of our graduates. #YNotOV

Congratulations to our OVMS state track medalists today! 7th grade Payton Booker - 1st in Pole Vault Logan Sarver - 7th in High Jump Wyatt Bell - 8th in High Jump 8th grade Gabby Totten - 1st in the 100m dash and 3rd in the Long Jump Kwame Calhoun - 4th in the 100m dash #YNotOV

We have our 2nd state champion of the day at the IESA state meet! Gabby Totten finishes strong to win the 100m Dash! Congratulations Gabby! #YNotOV

Two state medals so far at IESA State! Gabby Totten places 3rd in the Long Jump and Payton Booker wins the 7th grade girls pole vault!!!! Great start to the day for our kids. #YNotOV

Good luck to our OVMS track & field athletes this weekend as they compete at her IESA State Meet in East Peoria! Bring home some hardware! #YNotOV