Reminder there is no school tomorrow, Friday, October 8 and Monday, October 11. Have a great weekend!!

OVES Parents: We will be having a menu change on Friday, September 24th. Breakfast will be: Cereal, Granola Bar, Fruit, Milk/Juice. Lunch will be: Chicken Patty on Bun, Macaroni and Cheese, Pears, and Green Beans. Please keep an eye on the website because there might be changes due to delivery issues or item shortages. Thank you!

OVES Grandparents parade Friday, Sept 10 at 9:30.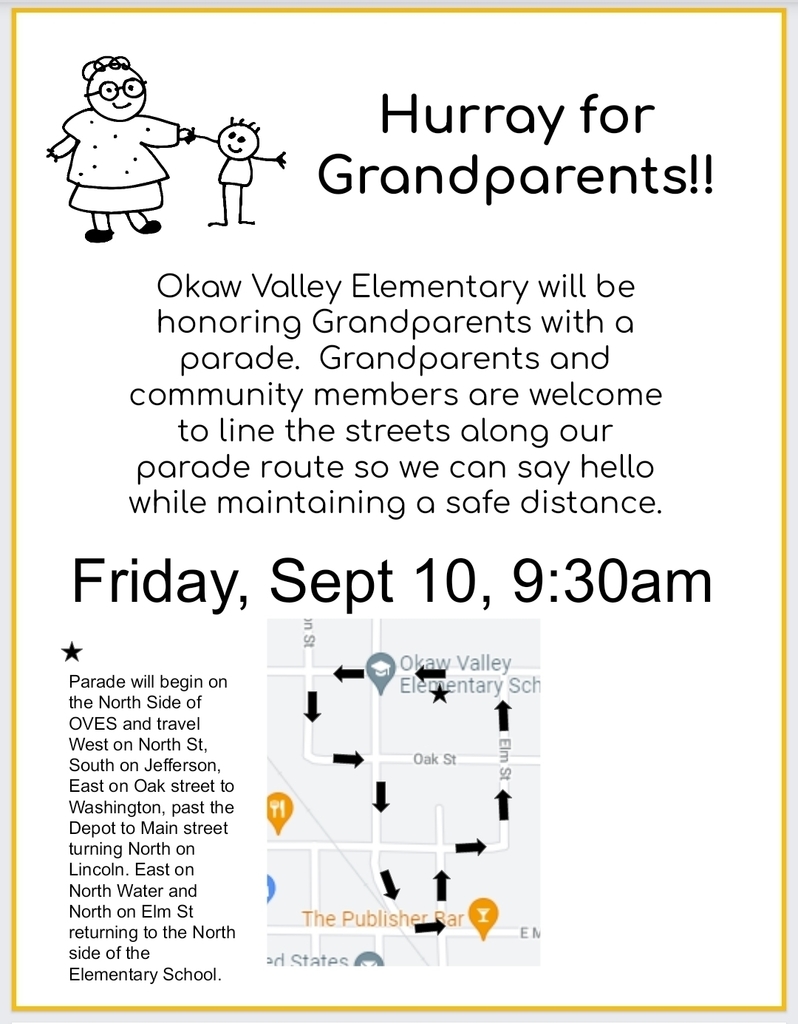 OVES picture day is Thursday, Sept 9. Remember to bring your best smiles! 😃

Please remember that tomorrow, Friday, Sept 3 is a 12:00 SIP dismissal and there is NO SCHOOL on Monday, Sept 6. Have a great weekend!

We are excited to see all our students tomorrow. 8:00-11:30. Reminder: Student pick up after school will be in the SOUTH drive. Please be patient as we work to make this safe for everyone.

Please see the photo for the latest coaching opportunity at Okaw Valley High School. #YNotOV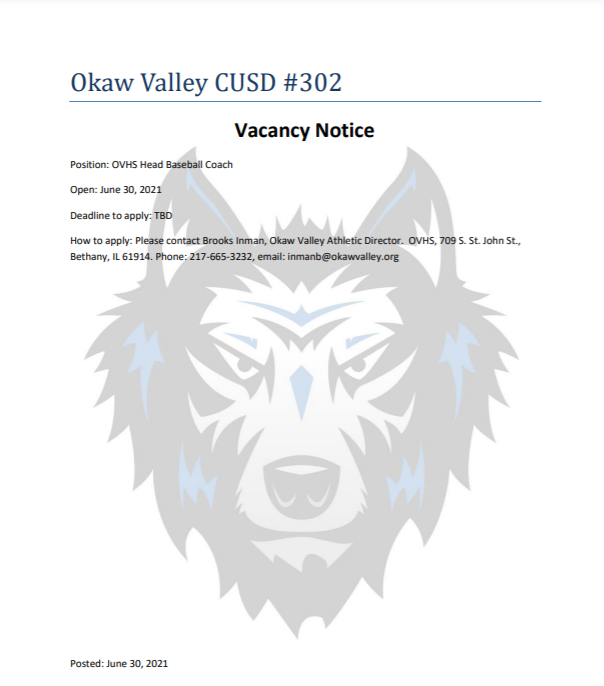 ONLINE REGISTRATION is currently open for the 2021-2022 school year. You will need your parent login for Skyward and a debit card to pay online at Illinois ePay. You will be able to update contact information, medical information, and give permissions as well as update emergency contacts in the Returning Student Enrollment Information online form in the Family Access portal of Skyward. You will need to complete an online form for each of your students. It is a simple process of following the steps in the online form. The online application for Free/Reduced School Lunch program will be available in July through your Skyward Family Access portal as well. This must be completed each year in order to be eligible for registration fee waiver. · Physical forms are available to download and print on the website. The Registration Information tab is at the top right of the district page. · Additional information such as supply lists, 2021-2022 Fee Schedule, and the 2021-2022 school calendar are also available on the OV website. · There is a link to Skyward on the Okaw Valley website and on the Okaw Valley app. Here is a link to a tutorial video on How to Navigate the Skyward Online Form for Registration · Illinois ePay is linked on the OV website and OV app. This is where you can make your registration payment. There is also a link included in the Skyward online registration form. If you do NOT have your log in information for Skyward, please email the office in order to get the family access link sent to you. The link is only good for 48 hours so be sure to check your email and access that link to set your password. You can email any building :
ovesoffice@okawvalley.org
ovmsoffice@okawvalley.org
ovhsoffice@okawvalley.org
There will be an in-person registration held in each building on Thursday, August 5, 2021.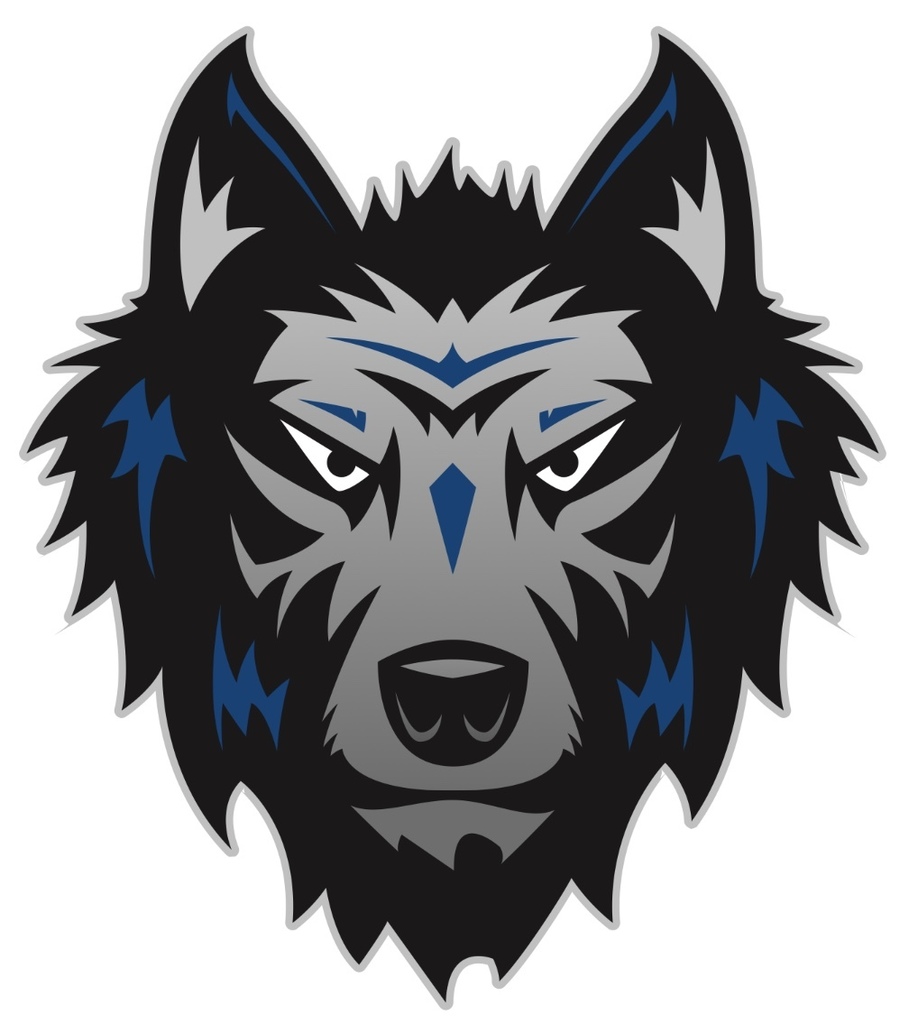 Reminder: Last student attendance day is Wednesday, May 20, 8am-2pm.

Reminder: Friday, May 7 is a 12:00 dismissal.

Tomorrow starts OVES ABC countdown to the end of the school year.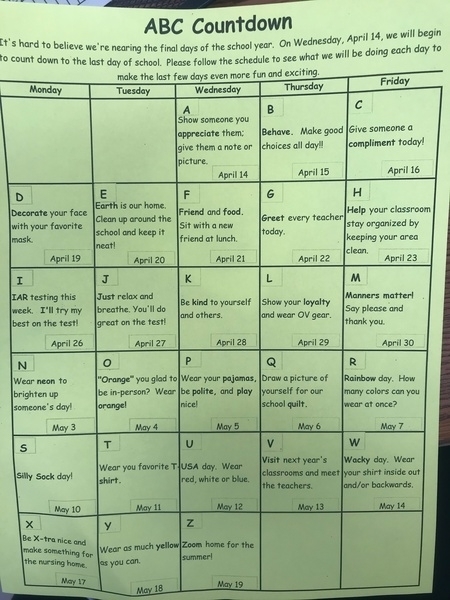 Reminder: 12:00 Dismissal on Friday, February 26 and No School on Monday, March 1 (Pulaski Day).

OVES Menu change for Friday, Feb 19: Taco in a bag Lettuce Banana Milk

OVES Menu change for Thursday: turkey/cheese sand., carrot sticks, grapes, chips. Friday's menu will not change.

Due to the existing conditions from yesterday's winter storm. Okaw Valley CUSD #302 will have a Remote Learning Day on Wednesday, 2/17. Building principals will be in contact with students and parents for further instruction. Extra curricular decisions will made by noon, 2/17.

Please see the photo for information regarding school tomorrow, Tuesday, February 16.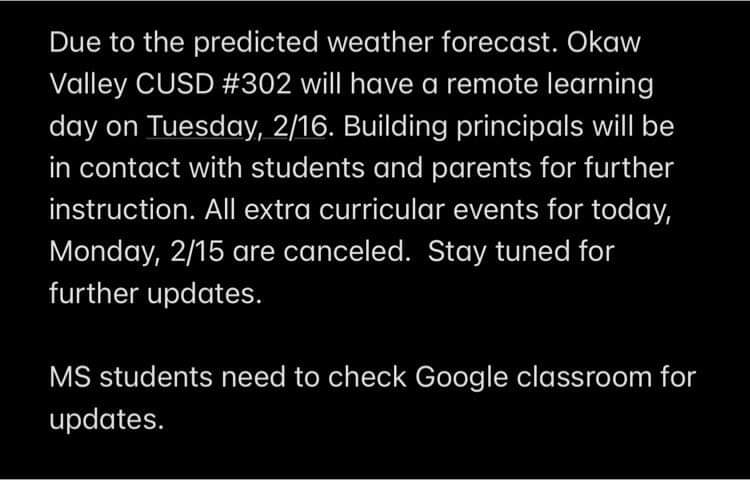 K & 1st Graders...Remember to dress up for 100 day on Monday, February 1

Please return remote learning devices and hot spots to school. Thank you!

In-person learning resumes TUESDAY, Jan. 19. Borrowed devices and hot spots for in-person students must be returned on Tues. No School Monday.

OVES Packet drop off and pick up will be tomorrow, Monday, January 11 from 9-2 at the North gym doors. Students return in person Tues, Jan 19 and final packets are due when students return.