We are currently posting this survey for any high school student that has not already filled this out. Mr. Holm will be in the lunchroom today 11-27 with a Chromebook to complete the survey. THIS SURVEY IS INTENDED TO HELP US MAKE OVHS AN EVEN BETTER SCHOOL FOR EVERYONE!! WE WANT YOUR HONEST ANSWERS- THANK YOU IN ADVANCE!https://docs.google.com/forms/...
You may access ChalkableSTINformationNow by clicking Explore on each school's page or by scrolling to the bottom of the main page and clicking the word Chalkable. This is where you can check student grades, schedules, and transcripts. If you want to see the menu for your school click Explore and then the dining circle. Menus for the month may be found under the Docu...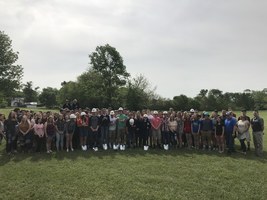 Work has begun on the new Ag Facility being constructed at OVHS. This building will be the center of the expanded Agriculture program at OV. Students will get hands-on experience across the agricultural industry including livestock animals, agronomy, corn, soybeans, cover crops, honeybees, wildlife and more. Construction is expected to progress through October.